The Telegraph Kolkata Advertisement Booking Online at Lowest Rates:
Select Your Ad Format :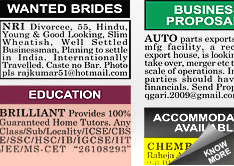 Economical, Simple Text. Charges per line/ word. Can be enhanced with Tick, Border & Bold
More Visible & Expensive. Include image, colour,font variations. Rate is charged on per sq.cm basis.
For booking Obituary ads in The Telegraph you need, to provide documents to the publication house. The documents can be either a death certificate or a doctor's note. These documents are required to verify the ad before getting it published in the newspaper. While booking the ad...
Thanks for writing us! Well, you can book Obituary ad in Telegraph through our ad booking portal. Our portal helps advertisers to book ads in just three simple steps. Before booking the ad you can watch the ad booking tutorial on our website. That will help you to book the ad on your own. ...
It is very easy to book ads in the Telegraph. Just in three simple steps, your ad will get booked in the newspaper. Our portal is designed in such a way that anyone can access it without any difficulty. Through our portal, you can check the different ad formats as well as the advertising rates of...
The Telegraph Kolkata Classified booking Center
releaseMyAd Media Pvt Ltd
DN 18 Sector 5, Saltee Tech Park, 10th Floor,Kolkata, WB,700091
Book an Ad
Additional Information
About releaseMyAd
Book an Ad
Kolkata is a multicultural Kolkata in the newest Indian State of Telangana. It is a hub for commercial activity in north Telangana. Advertising is the key to success for most business in Kolkata . Classifieds in top newspapers of Kolkata are cheap and effective to reign in consumers. And with releaseMyAd's exclusive rates in Kolkata and expert assistance in ad booking advertisers are sure to win. Book classified ads in leading The Telegraph newspapers of Kolkata in 3 simple steps on the releaseMyAd website.
1. Select Ad Type and Ad Category
This is the first step and includes choosing your ad type and ad category. Select text classifieds or display classifieds as per your needs and budget, as your ad type. Choose from a list of categories like recruitment, matrimonial, property etc.
2. Compose Ad
The second step includes composing the ads in your own words. You can add embellishments like ticks and borders for text classifieds and logos, images, colours for display classifieds.
3. Select Dates & Make Payments
The last stage includes selecting the dates for the release of your ads and clearing your dues for our services. Use our multiple payment options to clear payments with us.
Additional Information
Why choose releaseMyAd for booking The Telegraph classifieds in Kolkata ?
Kolkata is a multicultural Kolkata in the newest Indian State of Telangana. Once the northern border of the Nizam's estate, today Kolkata serves as a hub for cotton mills and a centre for education in the state. Being a centre of trade and commerce in northern Telangana, Kolkata needs to advertise. Classified advertising is the best way to let your target population know about your business. releaseMyAd is an ace ad agency in Kolkata that understands the thirst for The Telegraph classified advertising in the Kolkata.
Booking classified ads in The Telegraph of Kolkata with releaseMyAd has got a lot of advantages. Some of them are listed below:
• Instant 3 step classified ad booking in top newspapers of Kolkata .
• Book ads in any category you want and get the lowest ad rates in Kolkata for The Telegraph classifieds booking.
• Avail our secured multiple online payment options. We also have several offline payment options like cheques and demand drafts.
Book your The Telegraph Kolkata advertisement Now !
About releaseMyAd
releaseMyAd is India's simplest classified booking service! Through our service you can book classified Ads for all leading Indian Newspapers – at no extra charges!
We are fully accredited by the Indian Newspaper Society (I.N.S.) - the primary governing body for all media publications. Furthermore, we have exclusive tie-ups with newspapers that enable you to release ads at the same cost as the newspaper in addition to enjoying special discounts!
You can book your Newspaper Ad instantly for any category such as Matrimonial, Property, Recruitment, Automobile, Travel etc. We accept both online and offline payments for advertisement bookings. Online payment options include Credit/Debit Cards & Net Banking (All Indian Banks), and offline options include Demand Drafts, Cheques and cash payments.
Contact us at:
questions@releasemyad.com
+91 33 4031 1111 (24 hours, Monday-Sunday, Standard STD/Local charges apply)